Thomas Rest Haven has been providing quality nursing care since our founding in 1968. It is our mission to be a thriving health care community in which the individual needs and desires of residents direct and shape daily life.
Thomas Rest Haven Founders:
Charles W. Thomas (Charlie)
Mrs. Charles W. Thomas (Bertha)
Mrs. Maurice Galloway (Helen Thomas)
Mrs. Elmar Lang (Beth Thomas)
Miss Marian Thomas
Mrs. Marjorie Hess Thomas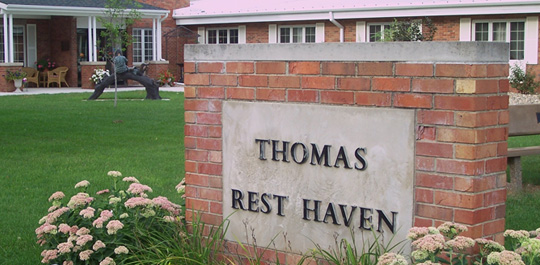 The History of Thomas Rest Haven
Thomas Rest Haven, a 57 bed skilled nursing facility, was built in 1968 by the Thomas Foundation of Coon Rapids which included Charles W. and Bertha Thomas, Helen Thomas Galloway, Beth Thomas Lang, Marian Thomas, and Marjorie Thomas Hess and then gifted to the city of Coon Rapids. The facility was state of the art then and has had dedicated care and updating over the ensuing years overseen by an elected Board of Trustees. In its almost 40 years of operation, the facility has served residents of Coon Rapids and individuals from the surrounding communities. In 2001 a medical clinic and therapy room addition was completed to ensure that the community had access to medical services and outpatient therapy. Today, under arrangement with St. Anthony Regional Hospital, a full time family practice physician with X-ray and laboratory equipment provides services to the surrounding community. Physical, occupational and speech therapy services are available on an outpatient basis. Additionally the facility offers respite services to families and caregivers who might need to place a loved one for short periods of time. In April of 2005 a generous contributor provided the facility with a new handicapped equipped 12 passenger bus, enabling the residents to have increased access to area activities.
Thomas Rest Haven, as a result of prudent guidance and insightful leadership, has always been known for its excellent care. The facility's reputation for providing care based on individual needs and desires was well established before the recent professional emphasis on "resident centered care". In May of 2005 the facility was nominated by a resident and two other community members to receive a prestigious award from the Iowa Department of Inspections and Appeals who is the regulatory agency for the nursing home profession.
As a result, Thomas Rest Haven received the Governor's Award for Quality Care, designating the facility as one of the premier long term care institutions in the state.
The facility completed a $500,000 dining room addition and front entrance and business office renovation. The beautiful and spacious dining room addition has greatly improved the quality of dining for residents and their guests. The additional space created in the project has allowed room for more recreational activities for the residents as well.
In September of 2008, Park View Assisted Living, a long held dream of Harris and Marjorie Thomas Hess opened its doors to the community. The project was made possible by the generous donations of the Hess's and other Thomas family members Jim and Kay Galloway as well as large contributions from Iowa Savings Bank and Coon Rapids Municipal Utilities. The 12 unit facility has quickly become home to residents seeking the reassurance of senior community living.
Today the facility continues its proud tradition of excellent, individualized care in a facility that the entire community boasts "is the best care anywhere!" The facility is a vital source of economic revenue for the community of Coon Rapids. In 2014 Thomas Rest Haven provided almost 2 two million dollars in local payroll and purchased over $450,000 worth of local goods and services in Coon Rapids. The facility employs on average 70 employees annually in a variety of professional and supportive service positions.
Thomas Rest Haven and Park View Assisted Living are located in the small town of Coon Rapids in Northwest Central Iowa.
Thomas Rest Haven was opened in 1968 by the Thomas family as a 57 bed Licensed nursing home. Park View Assisted Living was opened in 2008 with 12 apartments.  Wings were added to the nursing home along with a Therapy clinic and a Physician's clinic to serve the community. Thomas Rest Haven and Park View Assisted Living are not‑for‑profit organizations.
Thomas Rest Haven and Park View Assisted Living are one not-for-profit organization, owned by the City of Coon Rapids and was organized for the purpose of providing housing and care for the elderly. TRH/PV offer independent living as well as additional services for seniors to ensure the needs of every resident are met.
TRH is fully licensed by the State of Iowa as a nursing facility and participates in the Medicaid (Title XIX) and Medicare programs. The Administrator, Nurse Manager, Director of Nursing, and all other professional personnel hold current licenses or certificates. Park View Assisted Living is a certified Assisted and Independent Living facility.
"To be a thriving healthcare community in which the individual needs and desires of residents direct and shape daily life."
We, the caregivers of Thomas Rest Haven and Park View Assisted Living, believe that:
• Each resident is and individual
• Everyday provides opportunity to grow, to learn more, and to do better
• Life should be lived with choices
• People are more important than tasks
• Each resident should have the opportunity to be the best he or she can be
"We envision for our residents individualized, quality care. We will work as partners to create for them a home where there is friendship, comfort, and pleasure. We envision a place where each of us is known, where each is comfortable being themself, and where each of wants to be. Finally, we envision a thriving and growing community, full of life and vitality, in which all are welcome, and all contribute."